1986-2016 American Silver Eagle 30 Coin Set Ngc Pf69 Ultra Cameo Ecc Storage Box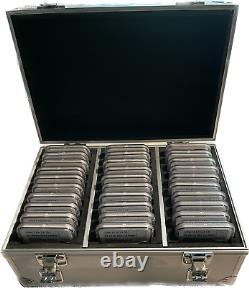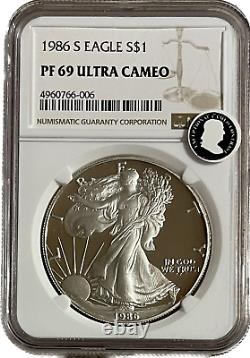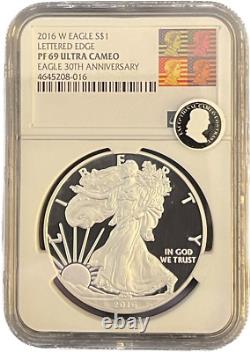 MINT THIS LISTING INCLUDES A SILVER AMERICAN EAGLE 30 COIN SET GRADED PROOF 69 NGC HOLDERS AND HOUSED IN IN A STURDY PADDED ALUMINUM STORAGE BOX. EACH COIN IN ITS NGC HOLDER IS PROTECTED FROM THE NEXT COIN EITHER IN FRONT OF OR BEHIND IT. THE SET IS REPRESENTED BY THREE DIFFERENT U. MINTS: SAN FRANCISCO, PHILADELPIA AND WEST POINT.
THE ECC LABEL REPRESENTS EXCEPTIONAL CAMEO CONSTRAST AND EACH EAGLE HAS THE ECC LABEL ON THE NGC HOLDERS. THESE EAGLES ARE A GREAT INVESTMENT AS A HEDGE AGAINST INFLATION FOR THE AVID COLLECTOR AND/OR I NVESTOR.
THIS SET WILL INCREASE IN BOTH VALUE AND RARITY IN THE COMING YEARS! YOU ARE PURCHASING JUST ONE OF THESE BEAUTIFUL 30 AMERICAN SILVER EAGLE DOLLAR SETS INCLUDING A HINGED AND PADDED STORAGE BOX.
THESE SILVER EAGLES ARE CONSIDERED TO BE ONE OF THE MOST BEAUTIFUL IN THE WORLD. PLEASE NOTE: THERE WERE NO EAGLES PRODUCED IN 2009 AND THEREFORE NONE IS INCLUDED IN THE SET! THE PHOTOGRAPHY OF THIS SET DOES NOT DO IT JUSTICE. 1.598 inches (40.60 mm).
P - S - W.