2010-w Gold Eagle 4 Pc Set Ngc Pf70 Early Releases All Coins In A Single Holder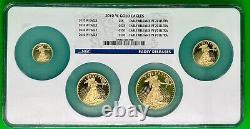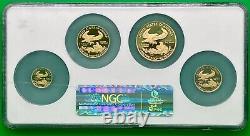 2010-W GOLD EAGLE 4 PC SET NGC PF70 EARLY RELEASES; ALL COINS IN A SINGLE HOLDER. These beautiful 2010 American Gold Eagles are certified and graded by NGC (Numismatic Guaranty Corporation). The grade is PF70 (Proof 70 or Perfect 70) which means the coins are completely flawless. Ultra Cameo is designated for Proof coins based on their fully frosted design and highly reflective fields on the obverse and reverse, giving it a pleasant visual contrast.
In addition, each coin in this certified NGC PF70 Ultra-Cameo set is labeled in a Brown holder. The American Eagle Gold Proof Coins have a limited mintage and are minted at the United States Mint at West Point bearing the "W" mint mark. NGC Proof American Gold Eagles in perfect PF70 condition are the most sought after and prized modern graded coins available in the market. Gold American Eagle coins certified in perfect "Proof 70" condition are highly sought after and have shown a track record of superior investment performance. Coins that are part of the Ed Moy Signature Series are even more rare, with population figures much smaller than the unsigned versions of the coin, which adds to their investment potential even more.
If you are a collector of modern graded U. Mint coins in Perfect PF70, you owe it to yourself to add these premium NGC graded West Point Mint Gold Eagle coins to your collection today! This 4-Coin Year Set includes. Contains 1.85 oz actual Gold weight. Obverse design features a rendition of Augustus Saint-Gaudens' Lady Liberty holding a torch in her right hand and an olive branch in her left. Reverse features an eagle carrying an olive branch flying above a nest containing a female eagle and her hatchlings designed by sculptor Miley Busiek. At MDCOIN COIN you can rest assured that all coins are guaranteed authentic and that because of our background in the Medical profession, we are use to providing excellent service to our clients. The Gold American Eagle is the most popular Gold coin in the United States. Add THIS beautiful 2010 American Gold Eagles set to your cart today!