2021 S American Eagle TYPE-2 PCGS PR70DCAM ADVANCE RELEASES DAMSTRA DESIGNER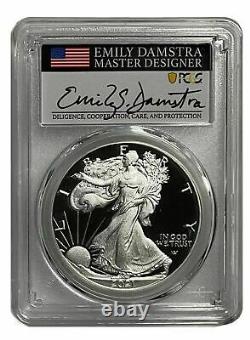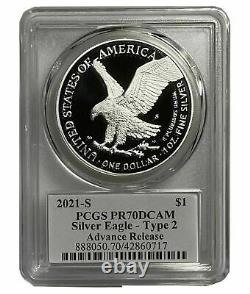 Sign Up For OurMailing List. 2021S Silver Eagle Type 2 PCGS PR70DCAM PROOF ADVANCE RELEASE DAMSTRA DESIGNER. Why "2021S Silver Eagle Type 2 PCGS PR70DCAM PROOF Advance Releases DAMSTRA DESIGNER Sign" Coin. "2021S Silver Eagle Type 2 PCGS PR70DCAM PROOF Advance Releases DAMSTRA DESIGNER" is the version by the US Mint, featuring a landing eagle that has replaced the famous John Mercanti's Heraldic Eagle after almost 35 years on a silver coin with a beautiful back core. The design was created by a new master designer named Emily Damstra.
This particular piece is the Advance Releases and is available with her signature along with being rated PR70 DCAM or Deep Cameo by the Professional Coin Grading Service (PCGS), making it a true collectible for any enthusiast. The 2021S Silver Eagle Type 2 PCGS PR70DCAM PROOF ADVANCE RELEASES DAMSTRA DESIGNER is an ultra-luxury item sought after by collectors due to its sheer beauty and the fact that it has made a mark on history, making its worth in the future unprecedented. The background on this particular coin and the new eagle design has garnered a lot of attraction, making it a true successor to the legendary John Mercanti coin.
Emily Damstra is a freelance artist who is also known as a coin/medal designer and as a science illustrator. Her design was chosen from among 39 design candidates. Her inspiration comes from nature which is reflected in her marvelous work which will decorate the 2021S Silver Eagle Type 2 PCGS PR70DCAM PROOF Advance Releases DAMSTRA DESIGNER Sign for years to come. The Outlook Of The Coin.
The outlook of the coin is simply marvelous to behold. The front of the coin still fashions Adolph A. Weinman's walking liberty on a core that glows in its magnificence that truly brings out its features in a refreshing way comparatively to previous versions. Being an " ADVANCE RELEASES" coin, it symbolizes that this coin is among the earliest Type 2 coins minted at the time the coin design was approved to be printed by the US Mint.
Additionally, it also signifies that the coin was received by PCGS (or a repository approved by PCGS) within one week of the release date of the coin. The coin hosts the latest inaugural design ON THE REVERSE SIDE of Emily Damstra's rendition of the Landing Eagle containing the following elements. A landing bald eagle holding an olive branch in its talons. E PLURIBUS UNUM written on the right side, just behind the eagle. Along the borders, it reads "The UNITED STATES OF AMERICA" on the left and "ONE DOLLAR 1 OZ FINE SILVER" on the right side.
The front has a classical lady liberty design, designed by Adolph A. The "PCGS MS70 DCAM" attests to the coin's condition (which in this case is a perfect 70 Deep Cameo). What additionally makes it a unique and collectible piece is the fact that this is the first coin that has been minted with Emily Damstra's design of the rendition of a landing eagle on the reverse of the silver eagle. There are other versions with silver core but the core of this version truly makes it stand a class apart. The eagle on the back symbolizes majesty, beauty, and freedom.
A highly detailed and beautifully engraved design which makes the 2021S Silver Eagle Type 2 PCGS PR70DCAM PROOF ADVANCE RELEASES DAMSTRA DESIGNER stand out from a thousand coins. The rare the status of a coin like ADVANCE RELEASES (along with features like hand-signed), the better price they can capture. The American Eagle is not only the most beloved, but also the official silver bullion coin of the United States minted this year (2021). No American bullion collection will be complete without this marvelous piece of art. The images are a true representation of the beauty of the coin that you will receive. Once in your hand, you'll be able to truly cherish their artistic beauty. Why Collect or Invest in American Silver Eagles? The American silver coin is the most in-demand coin in the world. Since it was introduced by the United States Mint in 1986, more than 300 million have been released (as of 2019).
There are two main kinds of silver eagle coins - bullion, proof silver, and burnished (uncirculated) silver eagles. These coins are not only a collectors' item but can also constitute a profitable investment asset, especially for those still learning the rudiments of investing. Here are a few reasons to collect or invest in silver eagle coins. Unlike other investment assets that require a significant understanding of terms like fundamental analysis and technical analysis, among others, you only need basic level knowledge [such as the ability to tell between a real and fake silver eagle coin] to start investing. There's also no need to fret over volatility in market prices because silver eagles tend to appreciate with time.
Silver eagles can be a good inflation hedge. Hence, silver eagles can help you store value during periods of inflation. At least they offer more stability than cryptocurrencies, stocks, and some other investment assets. They can be collected as treasures and gifts. These coins have been described as the most beautiful coins in the world.
Hence, such beautiful coins from a country that boasts the world's most influential currency will be an ideal collectors' item. Moreover, they can also be offered as gifts, not only because of their value but also for their artistic, treasure-like beauty.
Thank you for shopping at Best Collectible Coins. If there is anything that we can do to further assist you, please let us know within 5 days of receiving your package. In order to make a return, be sure that your item is undamaged and includes all original packaging in the same condition as when received. THE PLACE FOR THE FINEST MODERN US AMERICAN EAGLE COINS.
Our founder fell in love with coins at the tender age of 5 when introduced to collecting while sorting Father's pocket change. Dad was a budding collector and his passion for these little gems sparked a lifelong love for what would soon become US Mint quality pieces.
We welcome you to explore our site to find the highest grade MODERN US AMERICAN EAGLES available anywhere. Whether an avid collector or serious investor, one must agree that Lady Liberty is a magnificent work of art. Listing and template services provided by inkFrog.
This item is in the category "Coins & Paper Money\Bullion\Silver\Coins". The seller is "bestcollectiblecoins" and is located in this country: US. This item can be shipped to United States. Mint
Coin: American Eagle
Certification: PCGS
Strike Type: Proof
Grade: PR 70
Year: 2021