2023 Australia Wedge Tailed Eagle 1 oz Silver 1st Colorized First Day FDOI MS70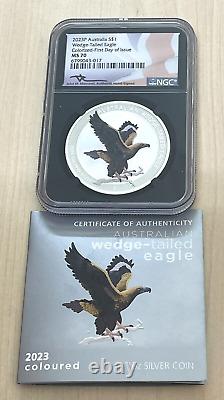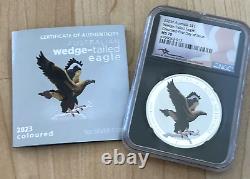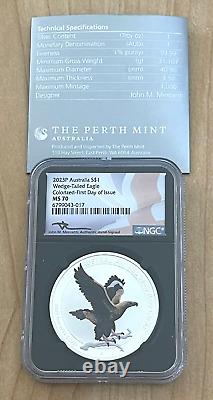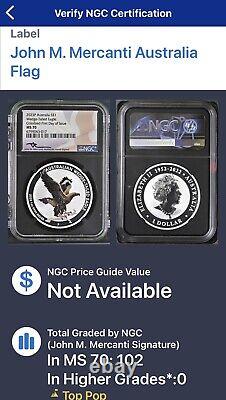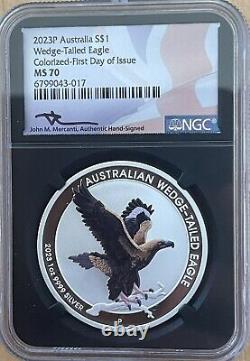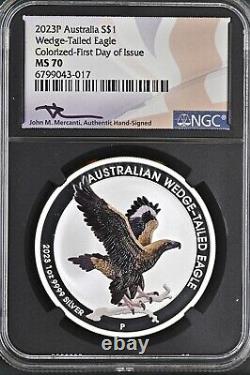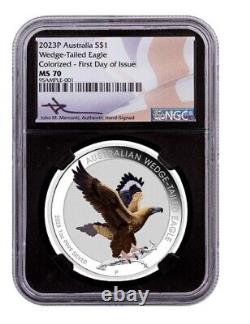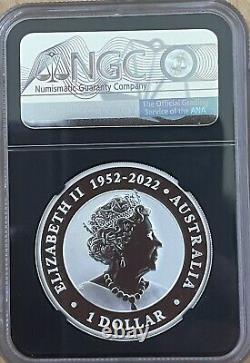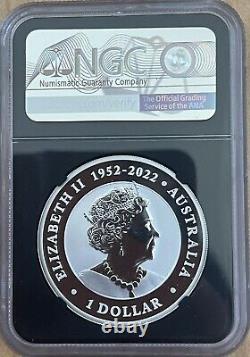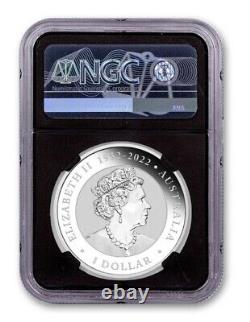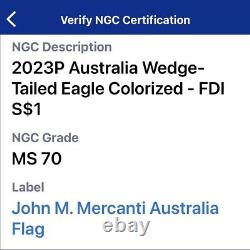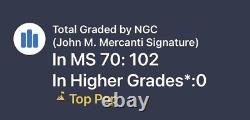 First-ever colorized release of the series. First Day of Issue (FDI). Within 24 hours of the official release date. The perfectly graded coin includes an attractive Australian-themed, John Mercanti designer-signed label.
Mintage of only 1,000 coins worldwide. Comes NGC cert # and COA # will vary as multiple coins are available. FIRST-EVER COLORIZED WEDGE TAILED EAGLE. This release is the first ever Wedge Tailed Eagle coin to feature selective colorization! The 2023 Australia Wedge-Tailed Eagle's new one-year-only design is the creation of former United States Chief Engraver John Mercanti and depicts a majestic Wedge Tailed Eagle alighting on a branch with its massive wings spread and the Perth Mint's famous "P" mint mark resting at the bottom of the design.
Each 2023 Colorized Wedge-tailed Eagle coin was struck in stunning from one ounce of highly pure 99.99% silver at the Perth Mint, which is represented by a "P" mint mark on the left side of the reverse. The Perth Mint is revered by collectors throughout the world for the consistent, outstanding quality of its coins. Each 2023 One-Ounce Silver Wedge-Tailed Eagle is one dollar legal tender in Australia and measures 40.6 mm in diameter. Your 2023 Colorized One-Ounce Silver Wedge-Tailed Eagle has been graded by the Numismatic Guaranty Company (NGC) in perfect Mint State-70 (MS70) condition. KEY FIRST DAY OF ISSUE CERTIFICATION.
NGC has certified your Colorized One-Ounce Silver Wedge-Tailed Eagle to be a First Day of Issue (FDI) coin, independent authentication that your coin was released by the mint during the premier day of the series' issue. Your coin will be sonically sealed in an acrylic holder with a black display core and encapsulated with an Australian Flag label that was personally signed by the legendary John M. Mint's 12th Chief Engraver! The Perth Mint has set a maximum mintage of just. 1,000 for these colorized coins.