Complete Your 36 Year Heraldic Silver Eagle Proof Set With This 2009 Proofed DC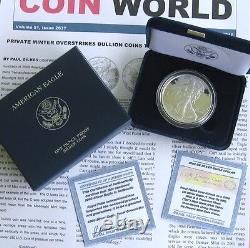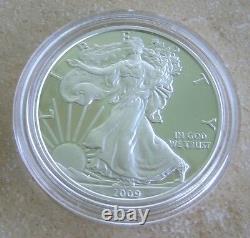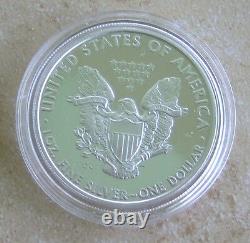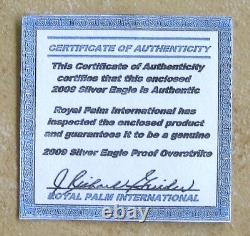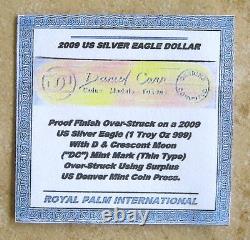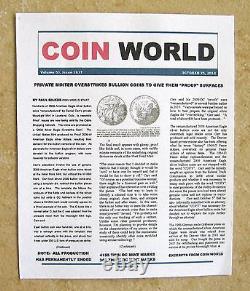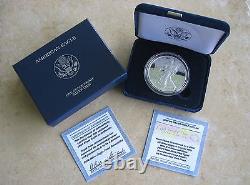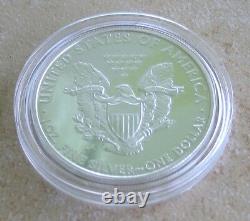 BEAUTIFUL 2009 PROOF DC SILVER EAGLE OVERSTRIKE W/CERTIFICATE OF AUTHENTICITY. THE ONLY ONE LIKE IT WITH COA & COIN WORLD EXCERPT. YOU'VE LOOKED AT THE REST - NOW HERE IS THE BEST.
US MINT PROOF CAPSULE, PROOF PRESENTATION CASE AND PROOF AMERICAN EAGLE BOX. INCLUDES CERTIFICATE OF AUTHENTICITY AND MOONLIGHT MINT STATEMENT.
INCLUDES COIN WORLD EXCERPT IN LID. COIN WAS OVERSTRUCK BY DANIAL CARR TO A PROOF FINISH. THIS BEAUTIFUL COIN WAS THE HOT TOPIC OF THE NUMISMATIC WORLD. THE OCTOBER 25, 2010 EDITION OF COIN WORLD MAGAZINE RELEASED A LARGE WRITE-UP ON DANIEL CARR'S 2009 PROOF SILVER AMERICAN EAGLE DETAILING HIS PROCESS AND DESIGN. THE TOTAL COIN MINTAGE OF THESE 2009 SILVER EAGLE OVERSTRIKES IS 4,539 PIECES. ALL 1986 THRU 2021 HERALDIC PROOF SILVER AMERICAN EAGLES HAVE BEEN RELEASED BY THE U. THIS 2009 SILVER EAGLE PROOF OVERSTRIKE COIN WITH CAPSULE, BOX, CASE AND COA IS THE PERFECT ADDITION TO ANYONE'S HERALDIC SILVER EAGLE 36 COIN PROOF SET.
ENCAPSULED AND PRESENTED IN A US MINT PROOF CAPSULE, PRESENTATION CASE, OUTER BOX &. CERTIFICATE OF AUTHENTICITY & MOONLIGHT MINT STATEMENT. WITH SUCH A LOW - LOW FINAL MINTAGE, THIS PERFECT COIN IS SURE TO BECOME ALMOST UNOBTAINABLE IN THE VERY NEAR FUTURE. GET THIS ONE WHILE YOU CAN!!