Lot of 20 2021 (P) 1 oz Silver American Eagle PCGS MS 70 FDOI Emergency Issue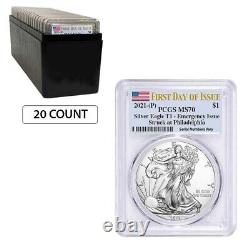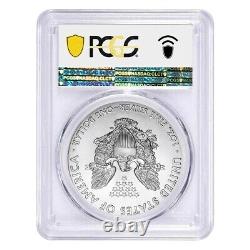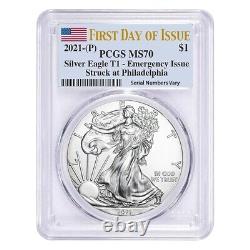 90% & 40% US Silver Coins. Lot of 20 - 2021 (P) 1 oz Silver American Eagle PCGS MS 70 FDOI Emergency Issue. 20 x 1 troy oz = 20 troy oz.
20 x 31.1 grams = 622 grams. Please note despite whatever perceived flaws this coin may exhibit, at the time of grading, PCGS graded this coin MS 70. As such, the terms of the PCGS Guarantee and PCGS Modern Silver Coin Spot Policy apply.
Any concerns regarding the accuracy of the grade may be taken up directly with PCGS, who are the final arbiter in these matters, and Bullion Exchanges is not liable for concerns regarding their initial grade of the coin, nor their decision upon appeal. Please note this coin was produced by the Philadelphia Mint but does not carry the "P" mint mark.
This American Silver Eagle coin from the US Mint is part of the final release to feature the original John Mercanti Silver reverse design. This 2021 Silver Eagle contains. 999 fine silver and weighs 1 troy oz. Additionally, PCGS has graded this Silver Eagle a perfect MS 70 with the First Day of Issue designation.
While there is no "P" mint mark on the coin, PCGS has certified this specific Silver Eagle was produced at the Philadelphia branch of the US Mint. Select this stunning Lot of 20 - Silver 2021 (P) 1 oz American Eagle to add to your collection today! Final Silver Eagle Release with the original reverse design.
Graded MS 70 FDOI by PCGS. Minted at the Philadelphia Branch of the US Mint.
Lot of twenty coins, each made from. 999 fine silver with a weight of 1 troy oz. Each coin comes in an official PCGS holder with First Day of Issue label. Lot of 20 comes in the original PCGS box.
Obverse: Features a full-length Lady Liberty walking towards the rising sun with her gown and the draped flag billowing around her. She holds oak and laurel branches in one hand to symbolize peace and strength. Inscriptions: "IN GOD WE TRUST, " "LIBERTY, " and the year of mintage.
Reverse: Shows the US national Coat of Arms with a bald eagle carrying an olive branch and arrows in its talons. Thirteen stars are positioned above the eagle that bears a shield with the US flag on its chest. Inscriptions: "UNITED STATES OF AMERICA", "E PLURIBUS UNUM", "1 OZ", "FINE SILVER", and "ONE DOLLAR". Bullion Exchanges invites our customers to explore our selection of American Eagle Silver Coins, including this Lot of 20 - 2021 (P) 1 oz Silver American Eagle graded MS 70 FDOI.
If you have any questions regarding our products, please contact our customer service team. By purchasing from Bullion Exchanges, you are agreeing to all of our Terms and Policies. Bullion Exchanges reserves the right to refuse or cancel any order reviewed by our Compliance Team, which are deemed questionable or have increasing potential risk for being fraudulent.
All customers are subject to a review at our own discretion, in which additional information, identification and/or documentation, may be requested. A prompt response would help expedite the fulfillment of your order.
Packages are no longer insured if the tracking information shows the package is delivered. We will only be liable to cover packages that are lost in transit or damaged. There are no exceptions to this policy. Once an order is placed, it cannot be modified or cancelled. Using high definition digital video, we record the packing of our products to affirm accuracy.
Bullion Exchanges reserves the right to refuse or cancel any order reviewed by our Compliance Team, which are deemed questionable or have potential risk for being fraudulent. The submission of an order and subsequent receipt of a confirmation locks in your order and affects our metal hedging requirements and thus we are unable to make any price adjustments. Our in-house numismatist staff assign conditions to all products.
The condition assigned to the products is derived from industry-wide standards. Please keep in mind that most images are stock images, and therefore you should not expect to receive the pictured products. Silver products, and some gold as well, may exhibit milk spots, and/or toning, which are normal and do not change the condition described in the listing, nor the value of the product.
Coins that are holdered by one of the major grading companies are graded based on the condition they were in at the time of grading. However, at times, coins do tend to develop spotting or toning which are a normal happenstance in coins. Please keep in mind, the appearance of the toning and/or milk spots does not mean that the coin is not the grade specified on the actual slab. In instances where there is a discrepancy where the customer believes to be unjust, please refer to the grading company's guarantee policy.
Both NGC and PCGS have a program where they will compensate the owner of the current coin if they believe the coin deserves a lower grade than it had originally received. Please note, bullion coins, bars and rounds are mass-produced and are not struck to the same quality standards as collector coins. These bullion products are not certified and therefore will not always be 100% perfect. All sales are final and therefore in cases when a product is offered on a Deal Price, previously locked-in orders for that product will not be subject to price reductions or cancellations. Purchasing bullion and/or coins involves price risk, and the purchaser assumes all such risk.
We do not offer or make price adjustments based on the market fluctuations of precious metals, or for any other reason. We will never ask the customer to pay more for a product if the price significantly increased, so please refrain from requesting price adjustments after market prices decrease.