Qty 5 2023 Silver Eagles, BU 1 oz ea. In capsules with Cert great coins 5 Ounces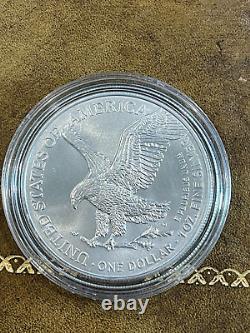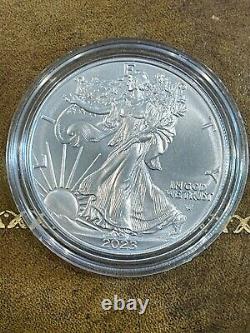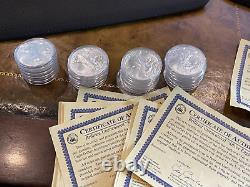 Description: Lot of 5 Uncirculated 2023 Silver Eagles. In Capsules with COA's. EACH order includes 5 2023 silver eagles! These are BU most from from sealed mint tubes, not resale of traded damaged ones, most of these look like the first opening.
Each order is for 5 2023 US Silver Eagle Coins (qty 5 coins total per order) 2023 silver eagles Uncirculated from sealed mint tubes and cert from NCM. American Eagle Silver Bullion Coins are affordable collectible investments, beautiful collectibles for stacking. Thoughtful gifts, and memorable incentives or rewards. The weight and purity are guaranteed by the U.
About Silver Eagles: In 1986, the United States Government minted the 1 oz Silver American Eagle coin. And has continued to produce new coins each year. The Silver American Eagle 1 oz bullion coins that are backed by the United States Government. We guarantee that all of our Silver American Eagles genuine and unique, fresh from.
Mint and in Uncirculated Condition. The Silver Eagle is the most popular bullion coin in the world.
This stunning Silver bullion coin is a valued investment for its 1 oz metal content. Beautiful patriotic design and government guarantee. These coins will make a nice addition to any collection!
The item you see pictured here are representative of the ones you will receive. If this listing has the Best Offer option, then we are willing to listen. If there is no "Make Offer" option, then this our best price. Our Prices are low to begin with. We will do our best to respond to questions and/or offers as quickly as possible.
Every effort will be made to process your order within a timely manner. Please see your order for the tracking information. It will be posted once a label is issued on our end. We offer a 30 day return privilege with the exception of Bullion coins due to spot price fluctuations. This would force us to raise our prices.
Please help us keep the prices as LOW as we can! Thank you and if you have any questions, please don't hesitate to ask! We do make occasional mistakes and would never intentionally list something incorrectly.
Keep this in mind when making us an offer to increase your chances of making a successful offer. We do our best to consider all reasonable offers, however, we work on extremely close margins.
We do realize that market values fluctuate, but if you would like an explanation of the value of any item, we would be happy to provide one.