2001-2021 W Silver Eagle Set NGC PF70 Ultra Cameo Mercanti Signed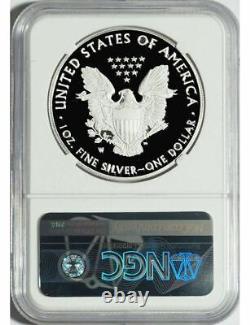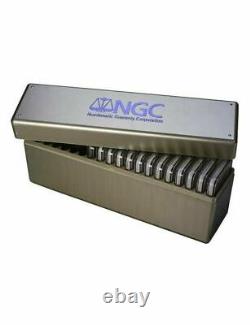 Authorized NGC & PCGS Dealer. Certified by NGC as PF70 Ultra Cameo. PF70 means Proof Perfect 70 Condition. These coins are hand signed by John Mercanti himself.
W stands for West Point Mint. NGCs encapsulation guarantees the coins PF70 condition. 2021 is the last year of John Mercanti's design of the iconic Heraldic Eagle on the reverse of the silver eagle. This is a very popular Silver Eagle Set and growing in value.
Don't miss out on owning this iconic set. This set does NOT include the 1995-W. Coins included in the set are: 2001, 2002, 2003, 2004, 2005, 2006, 2007, 2008, 2010, 2011, 2012, 2013, 2014, 2015, 2016, 2017, 2018, 2019, 2020, 2021 = 20 American Silver Eagle Coins.
Please note there is no 2009 because the U. S Mint did not produce a proof version of this coin that year.
Set comes with new NGC boxes for perfect storage and display. What makes this set so special is that it will be the last year the U. Mint is going to use John Mercantis design of the rendition of a heraldic eagle on the reverse of the silver eagle. Since 1986 (for 34 years) the U. Mint has struck the same design for the beloved American Silver Eagle. This is one of the #1 reasons why John Mercanit signed American silver eagles are so popular among collectors. This will be the last coin with John Mercanti's reverse design including his signature. This coin is surely be a must for your John Mercanti Signed Silver Eagle Collection.
The American Silver Eagle is the official silver bullion coin of the United States first released November 24, 1986. American Silver eagles are only struck in the one-troy ounce size, which has a face value of one dollar and is guaranteed to contain one troy ounce of 99.9% pure silver.
The Silver American Eagle coins were minted at the San Francisco Mint from 1986 - 1992. From 1993 - 2000 the coins were minted in the Philadelphia Mint. In 2001 the Silver Eagle production moved to West Point where the minting is still done today. Weinman designed the obverse known as The Walking Liberty and John Mercanti designed the reverse. John Mercanti was the 12th Chief Engraver of the United States Mint and designed the American Silver Eagle Reverse.
The reverse design is John Mercanti's rendition of the Heraldic Eagle with a shield grasping an olive branch with one talon and an arrow in the other. Above the eagle are thirteen stars that represent the original thirteen colonies.
The eagle holds a banner with the motto'E PLURIBUS UNUM' in its beak. UNITED STATES OF AMERICA' and'1 OZ FINE SILVER ONE DOLLAR' are inscribed on this side along with John Mercanti's initials.
It is for this reason the NGC Proof American Silver Eagles in perfect PF70 condition signed by John Mercanti are the most sought after and prized modern graded coins available in the market. If you are a collector of modern graded U. Mint coins in Perfect PF70, you owe it to yourself to add this premium NGC graded West Point Mint Mercanti Signed Silver Eagle coin to your collection today! The coin pictured is only a representation of the coin you will receive, not the exact coin (serial numbers will vary). Bullion items and books are excluded.
LCR Coin is Your #1 Source for Certified Gold, Silver a Rare Coins. We are Authorized PCGS and NGC dealers and are also members of PNG, ANA, ICTA, Coin World, and CCE. We are based in Hill Country in the heart of Texas. We are family owned and have been in this business for over 35 years. Thanks to our loyal customers, we have become one of the top trusted destination for Certified Graded Rare Coins, Modern Graded Coins, Gold and Silver Bullion and building Legacy Collections.
LCR Coin is a place where you can safely browse coins numismatically, build Wishlist's, view the coins certification on NGC or PCGS and shop for coins in a fun no hassle way. Subscribe to our monthly newsletter and receive exclusive offers on products. Ron Harrigal Signed Silver Eagles.