Five (5) Different Silver American Eagles 1 Oz Bullion Lot 010432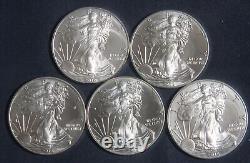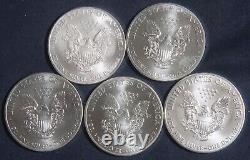 1 oz 0.999 Fine Silver Dollars. I have not tried to grade the coins. The dates are 2010, 2012, 2013, 2015 and 2016. Each coin is one full oz. Of 0.999 fine silver.
The coins that are pictured are the coins that you will receive. You will receive 5 troy ounces of silver. I also have other silver coins listed.
Please wait to pay until I can issue a combined invoice.